The key

European funding

programme

 for Research and Innovation with a budget of €95.5 billion 

to spend over a seven-year period

 (2021 – 2027). 
Horizon Europe aims to tackle climate change, help to achieve the UN's Sustainable Developments Goals and boost the EU's competitiveness and growth via European partnerships, missions, and international cooperation for the benefit of society.  
The structure of Horizon Europe is organised in 3 pillars and 1 horizontal focus area: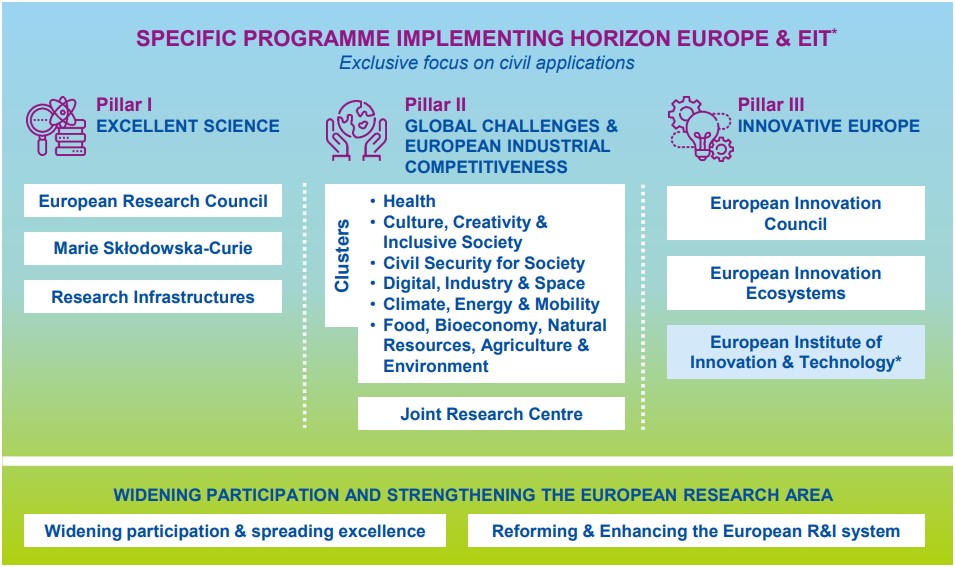 Pillar 1 – Excellent Science
Pillar 1 supports excellent scientific research in Europe through the European Research Council (ERC) (€16 billion), Marie Sklodowska Curie Actions (MSCA) (€6.6 billion), and Research Infrastructures (€2.4 billion).  
Pillar 2 – Global challenges
Pillar 2, with a budget of €53.5 billion, focuses to address social challenges, reinforce technological and industrial capacities, and sets European goals and missions concerning the biggest EU challenges (health, climate change, green and clean energy and mobility, security, digital, etc.). This pillar will aim at promoting partnerships with the Member States, industry and other stakeholders to work jointly on R&D activities. It includes action by the Joint Research Centre that supports EU and national policymakers with independent scientific evidence and technical support. Pillar 2 is structured as: 
Cluster 1

 – Health (Total budget €8.246 billion)

 

Cluster 2

– Culture, Creativity & Inclusive Societies (Total budget €2.28 billion)

 

Cluster 3

 – Civil Security for Society (

Total budget €

1.60

 billion

) 

 

Cluster 4

 – Digital, Industry & Space (

Total budget €

15.35

 billion

)

 

Cluster 5

 – Climate, Energy & Mobility (

Total budget €

15.12

 billion

)

 

Cluster 6

 – Food, Bioeconomy, Natural Resources, Agriculture & Environment (

Total budget €

8.95

 billion

)

 

Joint Research Centre

 (non-nuclear direct actions) – (

Total budget €

1.97

 billion

)

 
Pillar 3 – Innovative Europe
Innovation is key and this pillar aims to stimulate market-creating breakthroughs and ecosystems conducive to innovation improving SME growth and EU's innovation landscape.  
European Innovation Council (EIC) will prioritize market-creating innovation, supporting disruptive innovators (i.e. start-ups, SMEs, etc.) with bright ideas that are highly risky and have the potential to scale-up internationally. Within the EIC, three different programmes have been established: EIC Pathfinder, EIC Transition, EIC Accelerator.  
European Innovation ecosystems connects with regional and national innovation actors. (Budget for EIC and European Innovation ecosystems – €10.6 billion).  
European Institute of Innovation and Technology (EIT) brings key actors (research, education and business) together around a common goal for nurturing innovation. (Budget circa €3 billion).  
Widening Participation & Strengthening the European Research Area (ERA)
This horizontal pillar is transversal and complementary to all funding schemes in Horizon Europe and other European Funding Programmes. This programme aims to promote the exchange and networking of researchers and scientific institutions to mitigate the uneven distribution of R&D capacities within the EU. To achieve these objectives, there are the following funding programmes: COST, ERA Chairs, Teaming, and Twining.  
Missions
Within Horizon Europe, the Missions concept has been implemented. A mission is a portfolio of actions across disciplines intended to achieve a bold and inspirational and measurable goal within a set timeframe, with impact for society and policy making as well as relevance for a significant part of the European population and wide range of European citizens. 
In Horizon Europe, the EU will adopt 5 EU Missions as a commitment to solve major societal challenges:  
Adaptation to climate change, including societal transformation

 

Cancer

 

Healthy oceans, seas, coastal & inland waters

 

Climate-neutral & smart cities

 

Soil health & food

 
Each EU Mission will have a specific timeframe and budget depending on how difficult the challenge is. It will spark Innovation across all sectors, to deliver effective solutions.  
For all the latest developments on Horizon Europe, visit the dedicated Horizon Europe page.